I had just walked out of the bathroom after filming White Arrows guitarist JP Caballero shave, brush his teeth and talk about his time at UCLA when I realized "oh yeah, I'm supposed to be reviewing this show."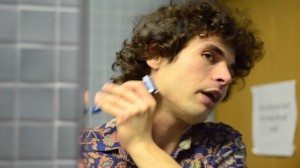 I walked back into the study room that had been turned into a green room for White Arrows and sat down to drink a Coke and talk about the dissolution of a popular torrent site with keyboardist Andrew Naeve when I realized "oh yeah, I'm supposed to be reviewing this show."
Oh yeah, I'm supposed to be reviewing this show.
I was introduced to Caballero and drummer Henry Church in the back study rooms of the Student Center. The temporary green room had their instruments scattered around and Church was tuning his drums in the corner. The neighboring study rooms just had to deal with the repeated thwacks of each tom.
Caballero needed a shave and to brush his teeth before the show and he suggested that it may provide some interesting footage. So I followed him to the bathroom and he talked about his college life, all while he lathered his face in shaving cream and then brushed his teeth.
I got lost in the casual conversation. White Arrows are nice fellows and each have a different personality. I had no idea what they were going to sound like. All I had was one word from their Wikipedia page in my head — "Psychotropical." Genre names are dumb — good thing I was wearing my Hawaiian shirt that night.
The Depot started to fill up as White Arrows set up. I got to the front and lost the path I took there. The crowd was filing in. I gazed at Caballero's and lead singer Mickey Church's effect pedal boards. There were delays, reverbs, phasers, loopers and all the psychedelic staples, yet I still didn't know what to expect. I was going into this as a blank canvas. I did expect Caballero's fresh Hawaiian shirt.
Then they started. And I got lost.
Church's vocal delivery sounds like Tallest Man on Earth's Kristian Matsson but mixed with the harmonizing of Naeve and Caballero, the vocals smoothly melted together in a reverb-drenched blanket of sound. Caballero's guitar riffs are reminiscent to early Strokes with their catchy scales and harmonies complementing Church's vocals. Bassist Steven Vernet basslines bounce with Henry's infectious drumming, feeding that tropical sound mixed with Naeve's electronic beats and synth lines.
White Arrows is a fun band. They were having fun on stage. The stage lights were turned off and their own multicolored lights made getting lost in their music much easier. Vernet would put his bass down for a tambourine that lit up at every hit. Church wore curly sunglasses and, at one point, a neon blue wig. As each of them bounced up and down on stage, I was doing the same and so was the crowd.
I now know how White Arrows sounds — and it's fun. I want to listen to their record at my most casual moments in life. I could be laying on my carpet, walking on the beach, hiking through the forest and getting lost. I got lost when they weren't on stage and when they were. I want to stay lost with White Arrows.
 Jump back in The Swamp soon for an exclusive video featuring White Arrows.